At ULAS we talk about university as being a £100,000 decision: Over 3 years your average student is spending £27,000 in tuition fees, £20,000 on expenses and the opportunity cost of gaining a salary over 3 years of between £45,000 and £75,000. All in all at least £100K. A sobering amount we think!
While small steps have recently been made to help the pockets of graduates, such as the threshold for repayment of student loans rising to an income of £25,0000 this April. There is no doubt about it going to university is an expensive experience, that merits careful consideration.
Gone are the days where there were only a few graduates looking for jobs. When companies who wanted to employ some of this clever, select pack would offer incentives unimaginable today. As university became available to the masses, it also changed the premium of what companies could expect from a graduate, and in turn what a graduate can expect for those three or more years at university is narrowing. Today the news is rife with stories of the many graduates struggling to find employment. Peter Thiele co-founder of Paypal and early investor of Facebook describes a "higher education bubble", whereby the cost of going to university far outweighs the value. So as the advantage of being a graduate has decreased should university be the assumed destination as you move on from school education, and what other alternatives are out there?
In the long term university graduates do earn more than non-graduates. According to Universities Minister Jo Johnson over the course of a lifetime, women can expect to earn about £250,000 more if they have a degree, while the figure for men is roughly £170,000. However, to counter this research by the centre for Economics and Business Research shows that those who progress on to study a Professional/ higher apprenticeship will increase earnings by an estimated £150,00 over a lifetime- with the bonus of no university debt. Indeed, Former Skills minister Nick Boles has advocated that apprenticeships should be considered as a clear alternative to university.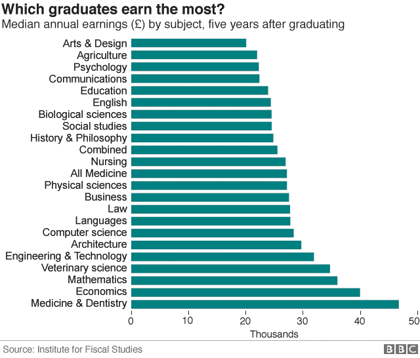 The subject you choose to study at university will also play a very important role in future earnings. Dr Jack Britton at the Institute for Fiscal studies noted that graduates of medicine and dentistry earn an average of £46,700, while those who studied economics take home £40,000. These figures he notes are about double the average wages of graduates from the creative arts, agriculture, and mass communication. Indeed, many students of the dance and drama colleges find that after five years their average earnings are closer to just £15,000.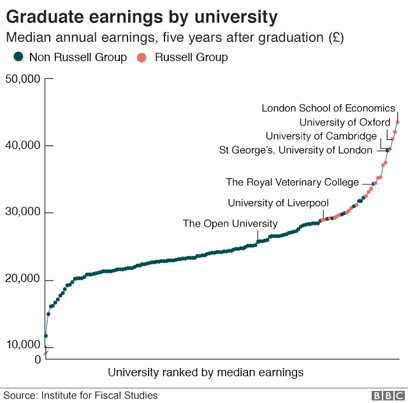 Which university you choose to study at also has implications on your future employability and earning potential. Employers who don't require specific degree subjects tend to target the universities with the best overall reputations. Philip Hammond has suggested that some university courses should be cheaper as there is a "significant difference" between the job prospects of students graduating from courses at these universities. The latest graduate labour marketing statistics show that one in three, 31% of all graduates are not doing graduate-or high skilled jobs. If university is for you it is well worth giving your choice of university and course careful consideration to give yourself the best chance possible of following your chosen career, and of earning a salary big enough to start paying off the student debts you've incurred.
But with debt, employability, future earnings and qualifications put aside what about the other aspects of university. The fun, the friends the freedom. The experience of going away, being independent and making new friends from around the country will enrich you as a person. Of course, there's some hard work involved but university gives you the space to breath and think about your future. The network of friends and contacts you make at university may even be able to open doors for you in the working world. It gives you the opportunity to study in depth a subject that interests you and a space where you can try new things out. But is this worth £100K?
Many people (me included) are guilty of having signed up for university without giving it a second thought. However, university is often not the only route into a specific career. Frequently there are other roads you can take to get to your chosen job, you just have to research the options available. School leavers can learn a lot from real world experience, and people should not be made to feel inferior just because they haven't been to university. There is a lot to be said for training and learning on the job, and learning from life itself. With accounting for example-a theoretical knowledge of accounting is not worth very much- what counts is how you apply it to clients.
The real challenge when thinking about leaving school is to work out what you are best at. We are not all best at the same things, and a one size fits all approach does not serve us well. University isn't for everyone. If you are not academically minded, don't have an interest in further education, are a budding entrepreneur or have a different skill set then regardless of debt it may not be the right choice for you. As Peter Thiele says don't be afraid to imagine an "alternative future" and to escape the mindset where we all follow the same higher education path.
We appreciate it's a lot for school leavers to think about, but whatever your chosen destination after school we are here to help. ULAS stands for Universal because it is for every young person across the country. In our explore area students can find all the apprenticeships on offer and in University + will be every university course in the UK. Be individual, play to your strengths, ask questions, do research and start shaping a future that will help you to thrive and grow.