Oxford and Cambridge- the diversity debate
Oxford and Cambridge topped the Times Higher Education World University Rankings for the first time last year, with the University of Oxford coming in top place and Cambridge University a close second. These institutions, collaboratively known as Oxbridge provide a world class teaching environment, have educated three quarters of Britain's Prime Minister's and consistently produce ground -breaking research that drives innovation.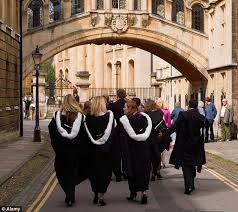 How do you get a place at Oxbridge?
Competition for places at Oxbridge is very strong. College tutors at Oxford consider just under 20,000 applications for around 3,250 places each year. While last year Cambridge received over 17,000 applications and accepted just under 3,500 students. Conditional offers for students studying A-levels range between A*A*A and AAA depending on the subject.
Who gets accepted at Oxbridge?
In 2017 Oxbridge published the following breakdown of students accepted in their admissions reports.
Between 2013 and 2017 the following students were accepted at Oxford:
The proportion from state schools rose from 56.8% to 58.2%.
The proportion identifying as Black and Minority Ethnic (BME) rose from 13.9% to 17.9%.
The proportion from socio-economically disadvantaged areas rose from 6.8% to 10.6%.
The proportion from areas of low progression to higher education rose from 9.5% to 12.9%.
The proportion declaring a disability rose from 5.6% to 7.7%.
The mix of men and women has fluctuated, with men outnumbering women in most years but more women were admitted than men in 2017.
Last year the following students were accepted at Cambridge;
The proportion from state schools rose from 62.5% to 64.1%
The proportion of those accepted identifying as Black and minority ethnic rose from 21.8% to 22.1%.
The proportion of those accepted from socio- economically disadvantaged areas rose from 10.6% to 11.5%
The proportion declaring a disability rose from 6.2% to 6.4%.
The male female ratio of students stayed the same at 52:48
Is Oxbridge making enough progress on diversity?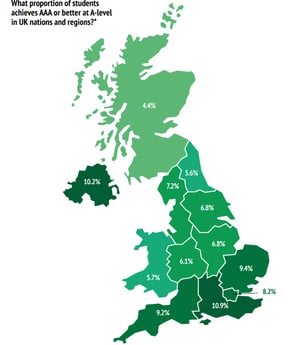 Vice Chancellor of Oxford Professor Louise Richardson says Oxford "reflects the inequalities – socio-economic, ethnic and regional – that exist in British society. The picture that emerges from the statistics is of a university which is changing; evolving fast for an institution of its age and standing, but perhaps too slowly to meet public expectations. It is a picture of progress on a great many fronts, but with work remaining to be done." Many however feel that rather than just reflecting the status quo in society Oxbridge should be doing more to help bring about change.
While there are some encouraging statistics such as Oxford offering more places to women than men for the first time in 800 years- a feat which Cambridge is yet to achieve! Some of the progressive statistics mask further inequalities in the education system. Cambridge for example had a record 64% of acceptances from state schools last year, (compared to 58% at Oxford.) However, this increase, is largely down to a subset of 'elite' state schools in London and the south east, which send nearly 50 per cent more students to Oxbridge than the national average. Sol Gamsu a researcher from Kings College London has said "Some of these state schools do outperform many independents but there is plenty of research showing that they also tend to have more affluent intakes than other local state schools."
The report also highlights a real divide in applicants taken from the north and south of the UK. Oxford for instance made more offers to applicants from five of the home counties (Surrey, Hampshire, Hertfordshire, Kent and Oxfordshire) than the whole of the north of England.
Also, the proportion of students accepted with a disability, is rising at a sluggish rate. At Cambridge the rise in disabled students accepted was 0.2% from 2016. Given technological advancements which makes higher education more accessible to students with disabilities one would expect to see a greater increase than this.
It is the failure of Oxbridge to take on more black students which has however attracted the most attention.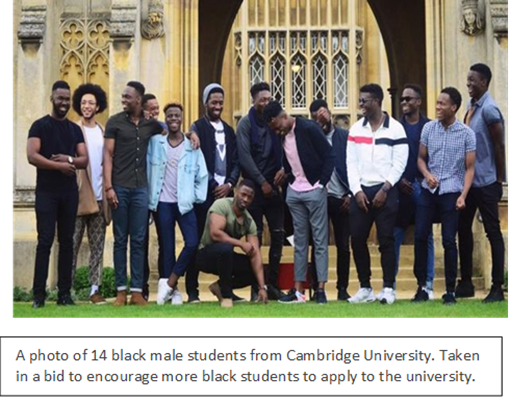 Love Island is statistically far more racially diverse than Oxbridge. The first episode featured two black islanders out of 11 representing 18% of contestants. At Oxford just 1.9% of students admitted in 2017 were black.
Labour MP David Lammy previously accused the University of "social apartheid" after he revealed that 10 out of 32 Oxford colleges did not award a place to any black British pupils in 2015.
Alarmingly, under representation of black students can be seen across the UK's 'elite' universities. The Russell Group, a collection of 24 "research-intensive" universities, also has on average much smaller proportions of black students than other universities - less than 4 per cent compared to 8 per cent at other universities.
Why is there a lack of diversity?
Oxford and Cambridge are old institutions that not just reflect but magnify the inequalities in society. Only seven years ago, both Oxford and Cambridge granted 79% of offers to children in the top two social classes- the sons and daughters of barristers, doctors and chief executives. The elitism is deeply embedded in their roots with more offers made to students from Eton than students on free school meals across the whole of the country. The universities have been slow to adapt to a changing society and haven't been proactive enough in providing initiatives and programmes for academic children from these under-represented groups.
What is being done about it?
In terms of the geographical disparities a spokesperson for Oxford has said that they have observed that the areas sending the fewest students to Oxford tend to be the most disadvantaged. "Rectifying this is going to be a long journey that requires huge, joined up effort across society- including from leading universities like Oxford – to address serious inequalities."
Oxbridge currently flag contextualised data that shows when an applicant is from a low performing school or postcodes that historically have low levels of progression to higher education. But it is unclear how this data is put to any meaningful use. Oxbridge should perhaps follow the lead of top colleges in the US who give weight to an applicant's class rank to ensure that talented young people have the chance to succeed against the odds.
Raph Mokades, founded the outreach programme Target Oxbridge, a free initiative that aims to help black students, and students of mixed race with black heritage increase their chances of getting into Oxbridge. He has said, "More needs to be done to prepare high-achieving black students for applications to Cambridge and Oxford, which is why we have significantly increased the funding we contribute to programmes like Target Oxbridge." He said that the small number of black students at the top universities isn't necessarily a result of the universities having any sort of bias themselves. It's because black students aren't applying in the numbers they could. The same could be said for students from poorer areas and students with disabilities, but so far there have been a limited number of such programmes established for them. More needs to be done collaboratively to give academic children from these groups the opportunity and support to compete on a level playing field.
To conclude, while Oxbridge has made slight progress in accepting students from diverse backgrounds, clearly not enough is being done to offset society's inequalities. The problems the universities and British society face are complex, multifaceted and structural and for diversity to truly happen the solutions need to be the same.